Angola
Support for on-site training as an ophthalmologist in Portuguese-speaking Africa
On site, we support the establishment of a complete training course in Portuguese / English to become an ophthalmologist. This programme will later also be available to other Portuguese-speaking countries such as Mozambique and Cape Verde. For these projects, we require laboratory equipment, technical devices, the placement of trainers, logistical advice, etc.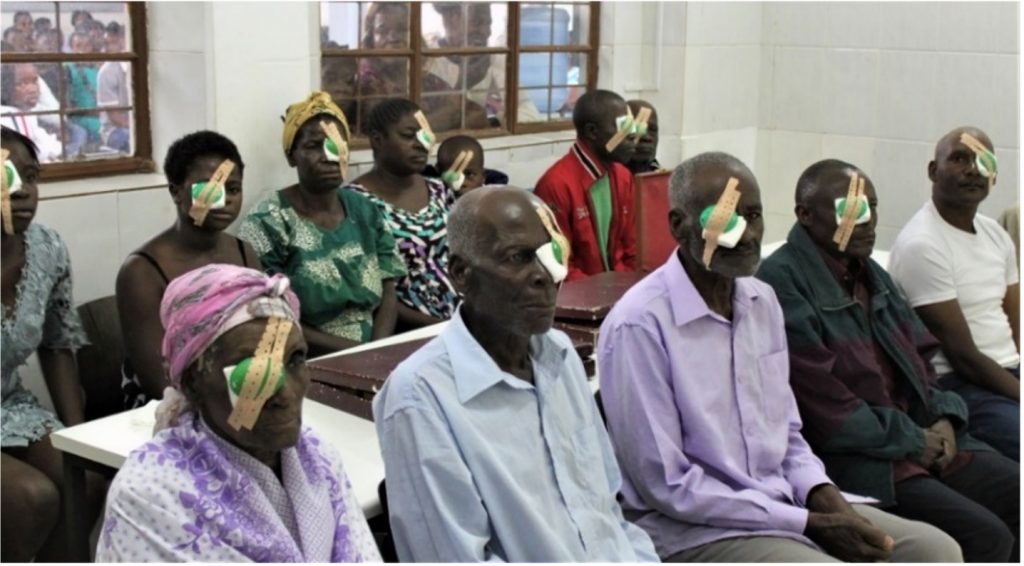 Angola in numbers
Surface
1,246,700 km2
Population
35.6 M.
GDP per capita (PPP)
6,104 USD (LU: 72,712 USD)
Population (%) under national poverty line
32.3% (LU: 17.5%)
Life expectancy
61.2 years (LU: 82.3 y.)
Literacy
66% of population > 15 years
Physicians' density
0.21/1,000 inhabitants (LU: 3.0)
Human Development Index
Ranked 148 out of 189 countries
Why this project?
Globally, special medical training, whether online or onsite, is generally available only in English or French. However, high quality onsite training in Portuguese is currently not possible in Africa. To be trained, doctors in the process of eye specialization will have to travel to Portugal or Brazil, an expensive and therefore often insurmountable obstacle. Sustainable development projects avoid this obstacle and provide on-site comprehensive training in the local language so that "the country can help itself" as quickly and efficiently as possible.
Inspiration
The CBM Luxembourg Foundation was inspired by the DESSO project carried out by CBM Switzerland in Conakry, Guinea: this project offers comprehensive training in ophthalmology – including cataract treatment – in French for French-speaking countries of West Africa. This programme has been very successful and has had a great impact on ophthalmological care, far beyond Guinea.
Following the example of this ophthalmological training in French, the CBM Luxembourg Foundation plans to develop a complete training course in ophthalmology in Portuguese in Luanda, Angola. Here, too, cataract treatment is a primary, but not exclusive, goal. Once a higher number of ophthalmologists master this technique, the "blinding" of thousands of sufferers in Luanda, or in rural areas that are more difficult to access, can be avoided. And finally, this programme should also become attractive for doctors from other Portuguese-speaking countries, such as Mozambique, and the Cape Verde Islands, in the future.
Has CBM previously supported Angola?
For many years, CBM has successfully supported a clinic run by the church organization SOLE – Boa Vista, Benguela (in the south of the country). The clinic carries out ophthalmological examinations. Common eye conditions, from myopia to glaucoma, are treated. In particular, Boa Vista has built a robust cataract surgery programme. Up to 1,000 operations are carried out here every year. The patients accept strenuous journeys over several days in order to be treated here. The medical fees of the operation are charged according to their financial situation.

Some of the founding members of CBM Luxembourg were able to get an idea of ​​the efficiency and sustainability of this programme in 2019. Now it is important to extend this concept to the public sector and to the much larger capital Luanda and to combine it with a high-quality training programme.
Concrete goals
These are the goals for CBM in Angola from 2021 to 2023: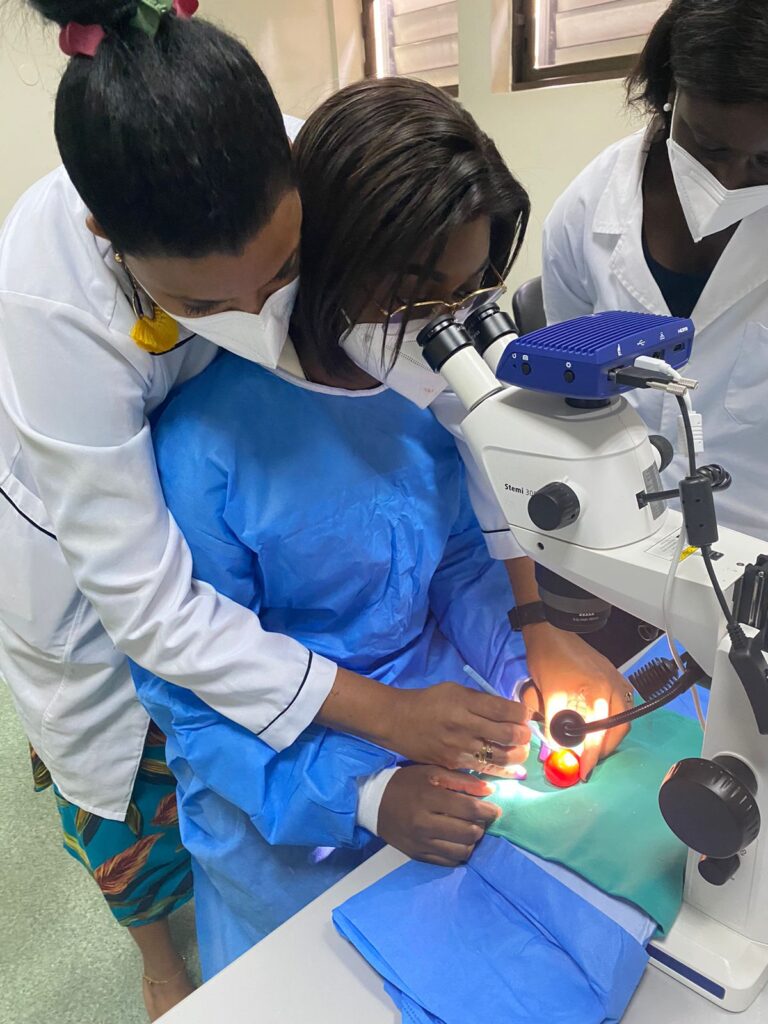 1. Creation of a teaching laboratory "wet lab"
Young doctors must study ocular anatomy and its pitfalls during any
intervention. In order to do this safely, a "wet lab" is created. A microscope
with camera will be the main pillar. The gestures of a surgical intervention
will be learned on the cow's eye.
CBM Luxembourg Foundation provides the financing for this laboratory.
2. Facilitation of on-site visits for training professors
Once the training objectives have been established, training professors will travel to Luanda to conduct the specific courses.
CBM Luxembourg Foundation will cover the travel and living expenses for these on-site trainings.
3. Learning specialized techniques abroad
Once the basic training has been acquired, young doctors will also be able to benefit from high-speed teaching on the various cataract surgical techniques (minimal incision, phacoemulsification). This type of teaching is offered by eye centres, such as in Africa and India, with experience of the specific challenges of developing countries.
CBM Luxembourg Foundation will offer this training to 12 Angolan doctors.
4. Increase in on-site interventions
Even with an increased number of ophthalmologists able to perform cataract procedures, equipment costs are the final challenge. In order for the programme to be financially self-sufficient one day, and therefore to become sustainable, the acquisition of material costs for patients remains essential. This is also the only way to accelerate the programme.
CBM Luxembourg Foundation provides surgical material for single-use (lenses, sewing equipment, dressings, etc.) for 2,000 cataract surgeries.
Local partner
The National Ophthalmological Institute of Angola (IONA) is attached to university clinics and is our main local partner. In the medium term, the Boa Vista clinic located in the south of the country in Benguela will be another partner.
Budget
CBM Luxembourg is solely responsible for this project. The CBM Luxembourg Foundation has funded this project with an amount of EUR 50,000 in 2021 and 2022. Depending on the donations received, the amount may increase to EUR 75,000 in 2023.